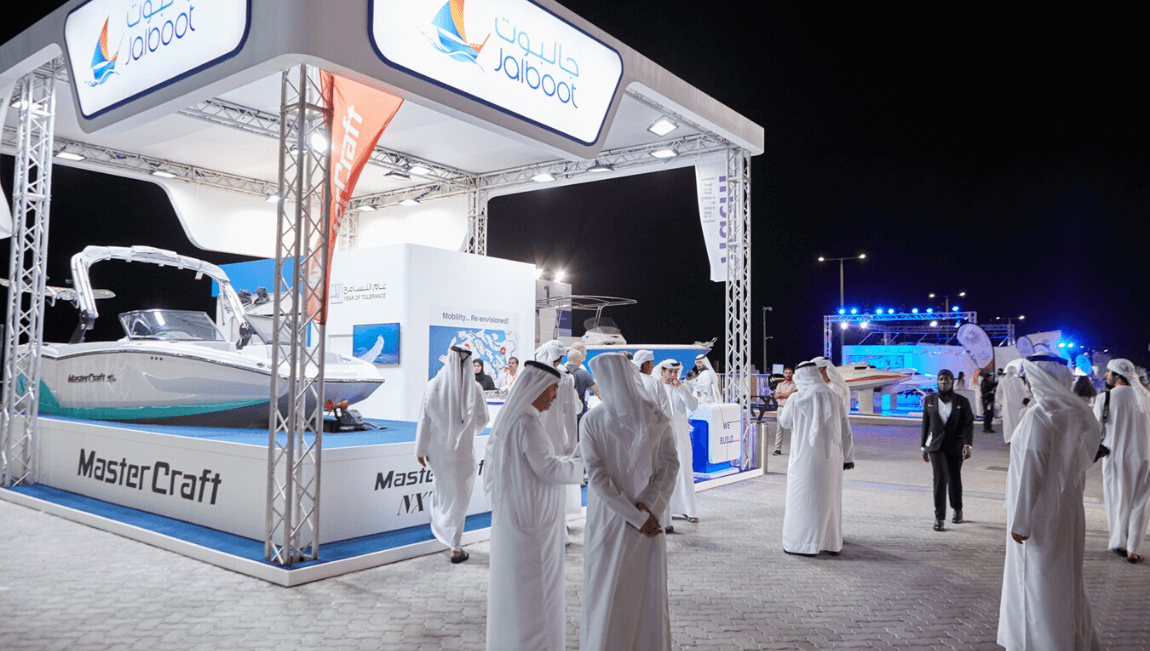 October 16, 2019
Jalboot redefines itself through a new slogan "Design, Build, Operate and Manage".
Jalboot expands successfully into marine services internationally and becomes a leader in the Maldives.
Jalboot to showcase its new Abu-Dhabi based services at this week's Abu Dhabi International Boat Show (ADIBS)
Jalboot to display new vessels for its customers.
Abu Dhabi 16/10/19: Only two years after its geographical expansion, Jalboot has managed to become one of the leading marine companies in the Maldives.
The former boat tour company Jalboot, has experienced a year of growth as it has spread into new sectors becoming a fully-fledged Marine Services firm, while also expanding into international markets such as the Maldives.
The firm was originally established in Abu Dhabi and while it continues to grow its core business nationally, the diversification has been the key to its recent success.
Nationally, Jalboot has turned its focus to Marine Services such as maintenance, repairs and dry-berth where it is currently serving more than fifty clients in its center in Al Bahiya, Abu Dhabi. Moreover, Jalboot has also recently entered with a partnership with a Water Sports Company to establish a brand new watersports center in the heart of the city by Q4 2019.
Jalboot is showcasing its expanded portfolio of products and services at this week's Abu Dhabi International Boat Show (ADIBS), where visitors are invited to check out the latest models of boats from leading global brand Mastercraft and learn more about the marine services the firm carries out in the UAE and abroad.
Jalboot Holding LLC CEO, Mohamed Roestali, said: "2019 has been a year filled with success for the company both nationally and internationally. In the UAE, we continue to strive as we diversify into marine services and watersports. Our UAE operation remains the core of what we do and it is essential for us to maintain its growth. We are proud to be UAE's marine ambassadors in the Maldives and the Far East. We will continue to grow, expand, and spread our values into new international markets."
The Jalboot Group is now delivering marine construction, operation and management services in the UAE and the Maldives, while also offering vessel design, construction, supervision and consultancy through its partnership with iYacht, a global leader in yacht design based in Hamburg, Germany.
ENDS
About Jalboot
Jalboot has expanded its operations from its experiences in Abu Dhabi to a fully-fledged marine services holding, resulting in the Jalboot Group. Jalboot Holdings is the investment and leasing arm of a group of companies owned directly by a single Shareholder. It is comprised of the following subsidiaries:
Marine Design:
i‐Yacht ME: vessel design, construction supervision & consultancy in the UAE and internationally.
Marine Construction:
Vessel Construction: Managed by Jalboot Holdings with selected shipyards locally and internationally.
Marine Operation:
Jalboot Marine Network: A company that provides private tours and charters around Abu Dhabi.
Jalboot Leisure: A water sports and leisure activities specialized service in Abu Dhabi.
Jalboot Marine: A company that specializes in boat servicing and maintenance, sale of spare parts, in addition to a well-developed agencies side where Jalboot Marine is the exclusive representative of  reputable brands such as Fjord, MasterCraft, and many others. Jalboot Marine operates in Abu Dhabi, Dubai, and the Maldives.
Jalboot Maldives: A company that is highly specialized in water transport and retail, operating in the Maldives.
Marina Management:
Jalboot Marinas: A company that offers integrated marina management in the UAE and globally.
Jalboot Maldives: Marina Management in the Maldives.